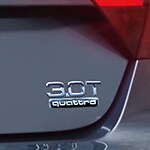 Audi had been pushing the boundaries of technology found in modern luxury vehicles, and the A7 perfectly exemplifies this. The A7 is a large luxury Sportback sedan that is incredibly popular due to the seamless blending of sleek design with futuristic features.
The MMI touch response system is one of the tech features you will be using the most, as it can be configured to control many aspects of the A7. This system helps to cut down on clutter and buttons on the interior of the A7, by having multipurpose displays. This system makes it easy and ergonomic to control the A7's navigation, media, and climate controls.
If you are looking to learn more about the Audi A7 overall, visit Audi Tulsa as our team can help you discover the features more intuitively. The best way to understand the intricacies of the MMI touch response system is to take the A7 on a test drive around Tulsa, OK.